The Cork Observatory is a provocative building, designed by the architect Manuel Couceiro, with the aim of creating an architectural piece that evokes the metaphor of the cork oak as a living element.
The Observatory is lined with natural cork and aims to become a structure promoting the asset which the cork oak forest is and highlighting its high ecological value. Working towards this, in collaboration with producers, business associations, universities and researchers, the space is distributed in such a way that seeks to bring the cork oak forest moorland and the industry together, thus completing the cycle for visitors to our territory with a display of these three main elements: forest, industry and innovation.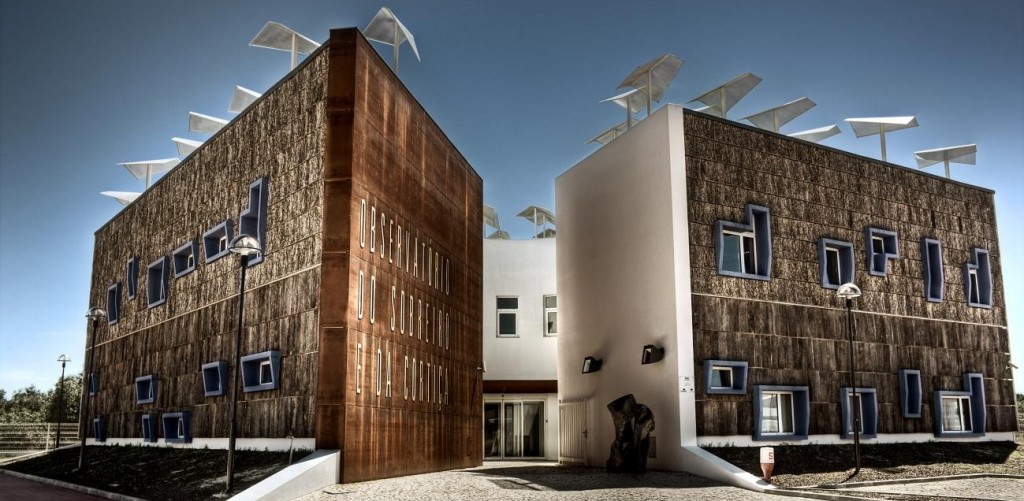 Exterior of the Cork Observatory. Photo: APCOR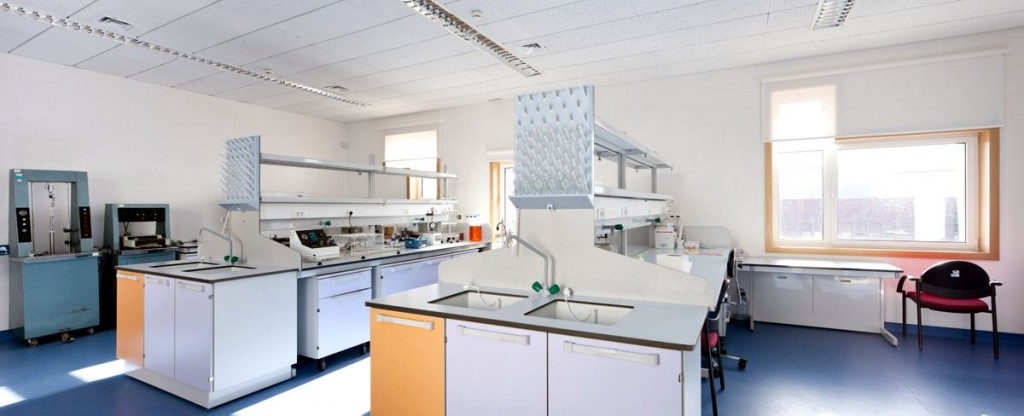 Laboratories. Photo: Município de Coruche
INSTALATIONS AT THE OBSERVATORY
Laboratories
Among the different installations that make up the building, there are laboratories and office spaces dedicated to the research of the cork oak / cork synergy which provides investigators with ideal working conditions close to the cork oak forest.
Documentation Centre and Training Room
The documentation centre aims to be a space dedicated to the bibliographic collection of elements relating to the cork sector, but in addition to the physical space, the bibliography can be consulted through an online platform created in collaboration with FILCORK – Associação Interprofissional da Fileira da Cortiça. There is also a classroom for vocational training allowing training activities for development in the sector to be carried out.
Auditorium
The auditorium is a welcoming space for conferences and seminars. Since its opening in 2009, it has hosted a growing number of speakers and visitors annually (school groups, universities, seniors, professional groups from the sector, businesses and companies, cultural, sports and recreational associations, and companies from the tourism sector).
With a capacity for 150 people, the walls are covered with black agglomerate cork and frescos by the artist Maria Ribeiro Telles, reflecting the hues of the cork oak forest.


Auditorium. Photo: Município de Coruche
Exhibition
The exhibition area regularly hosts temporary exhibitions linked to the cork oak forest and cork related subjects, making it possible to publicize any new applications of cork that may appear relating to design, fashion and architecture, among other forms of expression.
OTHER INFORMATION
The Cork and Cork Oak Observatory belongs to the Coruche City Hall;
Portugal 2015 Municipality of the Year Award, from the Alentejo region, awarded by the Plataforma UM Cidades;
An Honourable Mention in the category of Best Public Project 2014, in the Alentejo and Ribatejo Tourism Awards and Ribatejo 2014;
Educational Program: "Discovery of the Cork Oak Forest Mountains";
Support for research projects and publications.
PUBLIC OPENING HOURS
Monday to Friday:
Opening hours:  9.00 / 13.00 – 14.00 / 17.30
Weekend:
Only by prior appointment
Source: Information supplied by Município de Coruche.