Situated in the western part of the province of Córdoba, it is part of Sierra Morena, a range of rolling hills with peaks that reach a maximum height of 725m above sea level.
The reserve, set up in 1989, is almost 60,000 hectares of the best preserved Mediterranean forest, consisting mainly of Holm oaks, cork oaks and riverbank woodland. Together with the Sierra Norte de Sevilla and the Sierra de Aracena and Picos de Aroche, it forms part of the Biosphere Meadows  Reserve of Sierra Morena.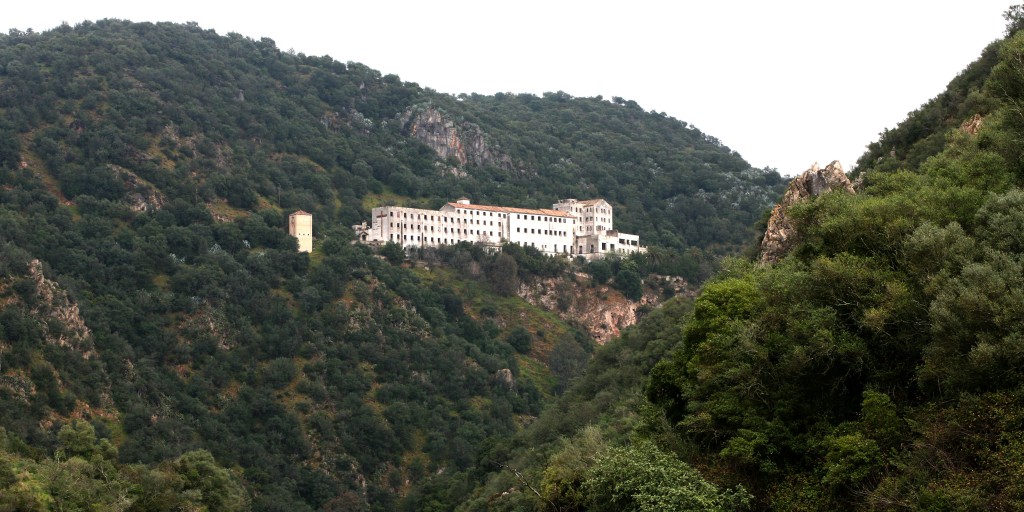 Seminary, Hornachuelos. Photo: Tourist Office Hornachuelos
VEGETATION, UNIQUE FLORA AND FAUNA
The most abundant tree is the Holm oak, with cork oaks and gall oaks in wetter places, or wild olive trees in Vega del Guadalquivir. Where Man has been active the labdanum tree predominates, and other areas consist of scrub, myrtle, Kermes oak and arbutus (strawberry tree). In the southern half, carobs, fan palms and wild olives thrive on limestone.
Riverside woodlands line the copious rivers that cross the reserve and the willow is a species particularly abundant here and of special botanical interest because of the high density of endemic species. The main threat to vegetation here is due to intensive pastoral grazing.
There are some 425 animal species. Currently, the Sierra Hornachuelos hosts the second largest colony of black vultures in Andalusia and three colonies of griffon vultures. Several eagles' nests, both golden and Bonelli occur in large treetops, given the scarcity of rock faces to nest. The endangered black stork, always interesting but seldom seen, is present here.
Up to 30 species of mammals live in the countryside, highlighting the now almost extinct Iberian lynx, the mongoose and the otter. Deer and wild boar are abundant though, making the Sierra a game reserve of national importance.
HERITAGE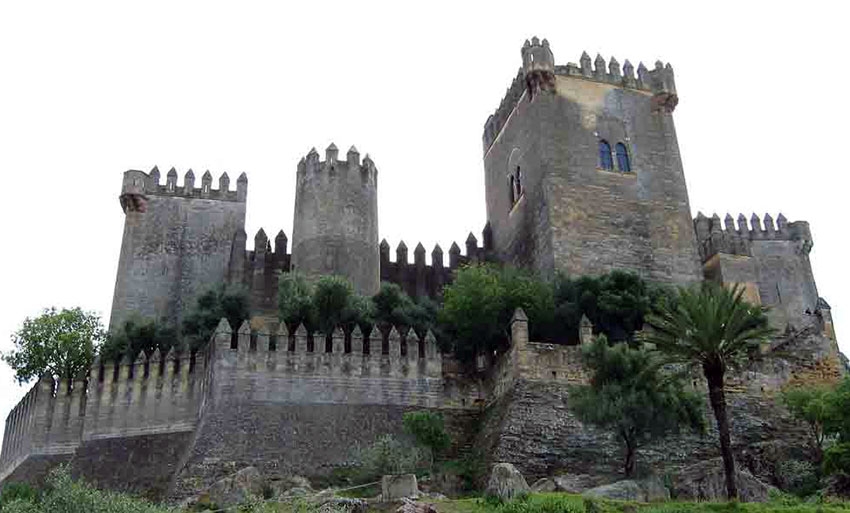 Castle de la Floresta, Almodóvar del Río. Photo: Sierra de Hornachuelos Nature Reserve
The rich architectural, historical and artistic heritage of the towns located in the Sierra de Hornachuelos includes prehistoric remains, ruins of pre-Roman and Roman villas, castles, towers and medieval walls, ancient monasteries, Renaissance churches and stately homes. For example, in Almodóvar del Río you can enjoy Castle de la Floresta, or the Roman remains and Arab towers found in Posadas.
If that isn't enough, in the heart of this reserve there are two renowned historical and artistic gems: San Calixto and the Seminary of Nuestra Señora de Los Ángeles.
TOWNS IN THE RESERVE
In the Sierra de Hornachuelos reserve we just can find 5 towns, all of them in the province of Córdoba: Almodóvar del Río, Córdoba, Hornachuelos, Posadas and Villaviciosa de Córdoba.
TOURS AND FOOTPATHS
There are several marked trails and routes, as well as the option of discovering the reserve through "Nature for everyone". This is a 4 hour route, and leaves from the Visitor Center at Laguna de Zóñar.
On the other hand, Moramiel Oro Ltd offers visitors the chance to do a beekeeping workshop where you can learn about the extraction of honey, or try your hand at candle-making. Products like candy made with honey, nuts or cosmetics and handicrafts made with cork are all on sale too.
SERVICES AND FURTHER INFORMATION
The area has the following services:
Organized environmental studies activities
Car parking
Picnic Areas
Environmental Education Centre
Visitor Centre
Signposted itineraries
Informative materials
Wildlife Observatory
Guided tours
Visitor Centre Huerta del Rey – Tourist Office Hornachuelos
Carretera CO-142
Hornachuelos-San Calixto, km 1
T. 957 579 656
huertadelrey@hotmail.es
Sources: Information provided by ACER. Associació per a la Conservació de l'Entorn i la Recerca; and extracted from www.hornachuelosrural.com, www.juntadeandalucia.es, www.andalucia.org, www.moramiel.com and Wikipedia.