The reserve with its 32,000 acres, is the second largest of ​​Valencia's open spaces. This mountain range, with its many natural springs, lush ravines and woodlands, is part of the Iberian range and separates the Palancia river basin in the south from that of the River Mijares in the north. Unusually here, there are outcrops of sandstone, called rodenos which give rise to abrupt and rugged relief.
It forms a barrier that is channeled by the prevailing rain and winds. It was declared a Reserve in 1998.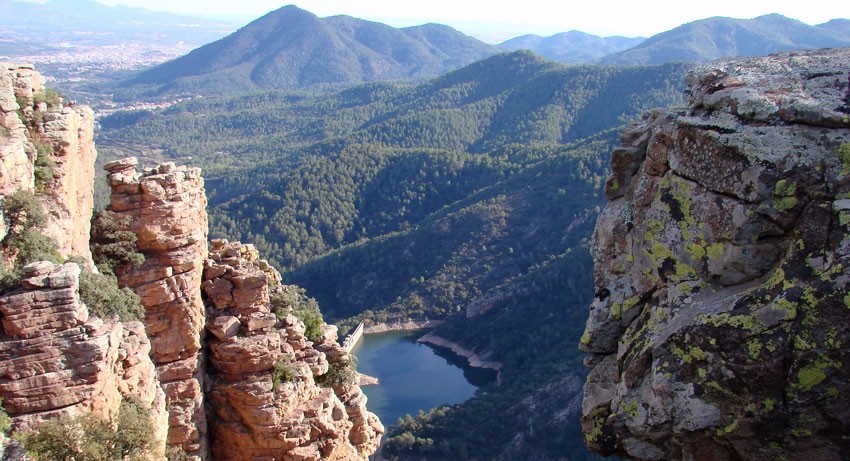 Sierra de Espadán Nature Reserve. Photo: Archive, Sierra de Espadán Nature Reserve
VEGETATION, UNIQUE FLORA AND FAUNA

Native river crab. Photo: Vicente Sancho
The Mediterranean climate, geological conditions, rich flora and human intervention on the environment, have led to different vegetation: pine forests, riverside woods, rural areas, Holm oak and cork oak groves. The latter is one of the most interesting in Valencia, intermingled with maritime pines, used in ancient times for the extraction of resins.
Native Valencian species such as knapweed, clave de roca or hierba de las lunas are found here, as well as other species of great scientific interest like pericó de sureda and ginesta de sureda.
Birds of prey include the rare and endangered Bonelli's eagle, the short-toed eagle, the booted eagle and the goshawk. Among the nocturnal species, the tawny owl, long-eared owl and the eagle owl. The wild boar, fox, marten, badger and genet are some of the mammals.
HERITAGE
There are numerous prehistoric remains, others belonging to the Valencian Bronze Age, as well as Iberian, Roman and medieval times. Especially prevalent are the many remains of castles that were built by the Arabs. No shortage then, of cultural, historic and artistic interest here.
Livestock and agriculture took off here thanks to irrigation ditches and water storage systems, wells, dams and aqueducts. Two aqueducts are evidence of this, the Rambla in Eslida or the Arquet in Alfondeguilla. Items of ethnological and ethnographic interest like ice stores, mines, trenches, etc. can be found in museums such as the Ethnological Museum in Pavias or in Tales.
The natural heritage offers visitors spectacular scenery where you will find many caves and natural springs. You can also participate in activities such as the extraction of cork or beekeeping.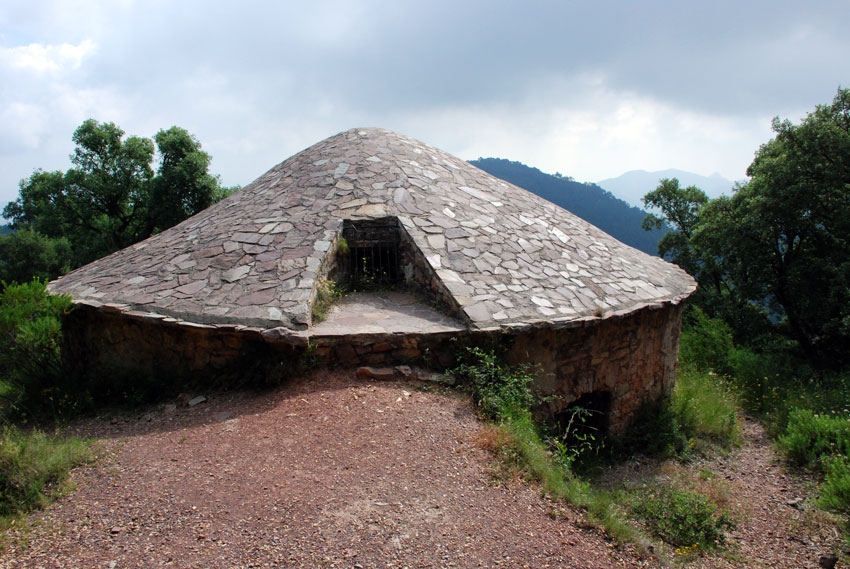 Castro Ice cellar. Photo: Archive, Sierra de Espadán Nature Reserve
TOWNS IN THE RESERVE
The municipalities that are in the reserve, all in the province of Castellón, are: Aín, Alcúdia de Veo, Algimia de Almonacid, Alfondeguilla, Almedíjar, Artana, Ayodar, Azuébar, Chóvar, Eslida, Fuentes de Ayodar, Higueras, Matet, Pavias, Suera, Tales, Torralba del Pinar, Vall de Almonacid and Villamalur.
TOURS AND FOOTPATHS
There are different tracks and trails that allow the visitor to discover the most inhospitable places and wildlife in the reserve as well as its cultural heritage.
SERVICES AND FURTHER INFORMATION
The area has the following services:
Organized environmental studies activities
Car parking
Picnic Areas
Environmental Education Centre
Visitor Centre
Signposted itineraries
Informative materials
Guided tours
Nature Reserve Visitor Centre
Av. Francisco Mondragón, 2
12528 Eslida, Castellón
T. 964 629 112 – 679 196 294
parque_espadan@gva.es
You can find colaborators information points in Segorbe, Montanejos, Chilches, Onda, Castellón de la Plana, Navajas, Moncofa, Almenara and Almassora.
Sources: Information provided by ACER. Associació per a la Conservació de l'Entorn i la Recerca; and extracted from www.eslida.es, www.fuentesdeayodar.es, www.alcudiadeveo.es, www.pavias.es, www.tales.es, www.alfondeguilla.es, www.matet.es, www.higueras.es, www.valldealmonacid.es, http://parquesnaturales.gva.es and Wikipedia.